11:20 PM Được đăng bởi

Vietnamru
In Vietnam and Cambodia, there are three main groups of rice: long grain,short grain, and sticky "glutinous" rice.The most widely grown and the most freq uently consu med is the long grain;in the cooler northern regions of Vietnam and Cambodia , the plumper short grain sometimes takes preference. Sticky rice is often used in porridge-style dishes and wrapped in banana leaves to make savoury and sweet "cakes".Rich in carbohyd rate and conta ining vitamins A and B, rice is one of the healthiest staple foods.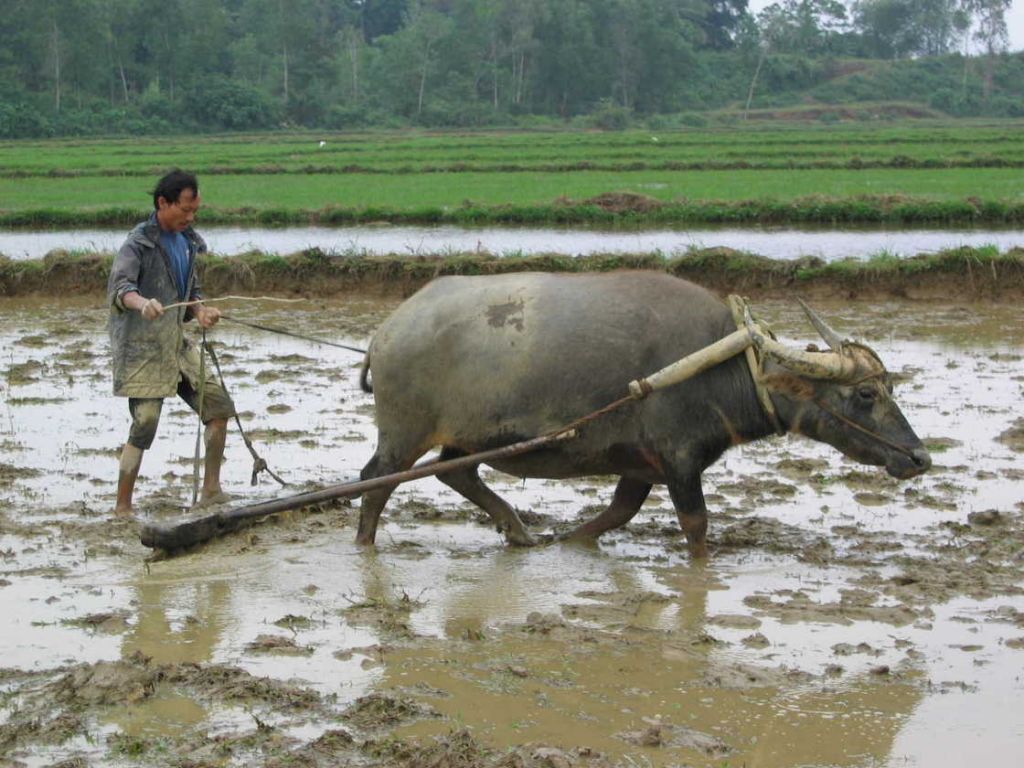 A woman ploughing rice fields in the traditional way with a buffalo.
It is used to make vinegar and wine, and it is ind ispensable when ground in to flour to make French-style baguettes and crepes, the ubiq uitous, paper-thin wrappers used for spring rolls, and dried and fresh nood les. Traditionally rice is boi led or steamed, then may best ir-fried; sticky rice is steamed until it resembles porridge.In Vietnam, rice is rega rded as the "staff of life". It plays an important role as a staple food as well as in the economy and the culture. There are even rigorous rice-cooking competitions based on the tradition of preparing rice for soldiers going into battle. With lush carpeted valleys and hi llside terraces of fertile, well-i rrigated rice crops, this long, narrow country manages to rank third in the rice-export game, behind the United States and Thailand,producing a number of varieties that differ in aroma, flavor, and gluten content. Vietnam's principal rice bowls can be found in the land around the Red River in the north and the Mekong Delta in the south.In Cambod ia, rice is equally important.Grown primarily in the emerald-green rice paddies of the Battambang region in the west, it is the pr incipa l ingred ient in everyday meals as well as in snacks and festive foods. A typica l Cambod ian breakfast consists of a bowl of bobar, rice porridge, which is sometimes accompanied by a little fish or pork Both the regular and glutinous va ri eties are popular with a stronger emphasis on the red and brown grains, which stil l retain the ir bran husks. Although the texture and nutritiona l qua lities of the red and brown gra ins are much greater, most Vietnamese dishes call for the polished vari eties to form the basis of a meal that will then be balanced by vegetables,herbs and spices for their texture, colour and flavour.Within their groups, there are many types of ri ce, all of which the Vietnamese and Cambodians can differentiate by the aroma or taste of the raw grain.When buying, the quality and texture of the grain will be discussed at length as each cook requi res a particular rice for he meal that day. Several long grain and glutinous varieties are ava ilable in Asian stores and supermarkets.
Tags: Vietnamese Kitchen